Nana would be proud: family recipes inspire outstanding NZ pickle brand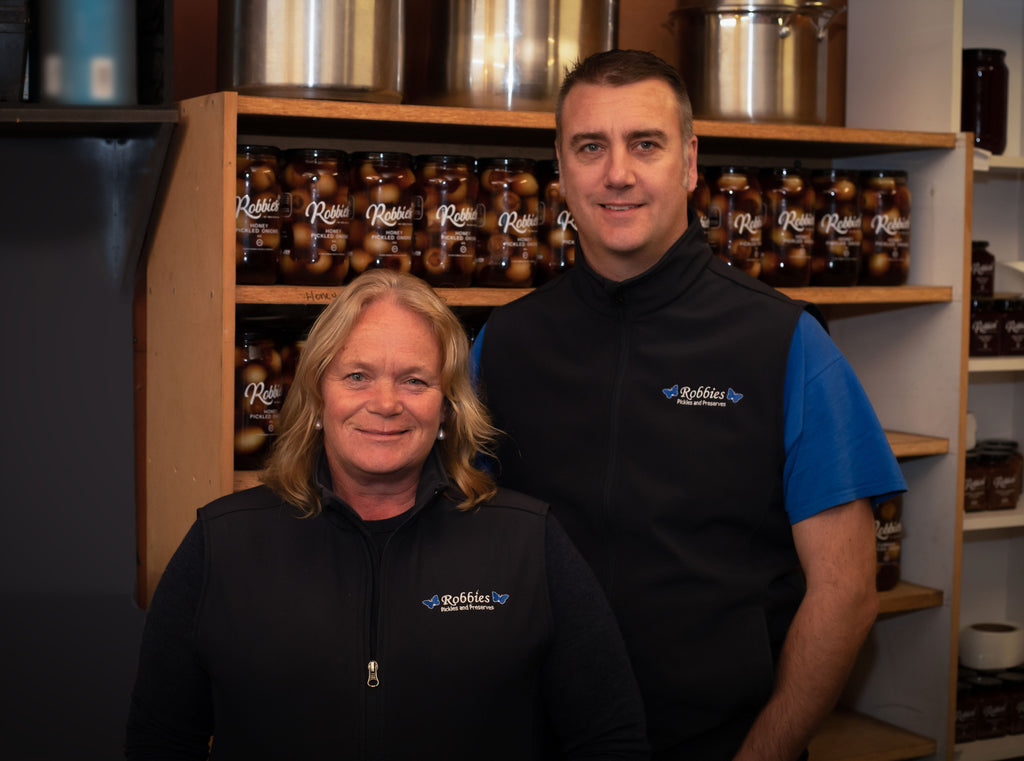 Publishing in Ooby Magazine 9/7/20.
We met Josie Robinson, also known as Mrs Pickles, to find out how her nana's legendary green tomato relish sparked a life-changing business idea.
The Robinson family first started making pickles and preserves when they had a surprise baby and Josie yearned for the morsels she grew up with. The ones her nan made. 
They are now a Gore based manufacturer of original handmade preserves and have just rolled into their 5th year. Josie absolutely loves the creative freedom in her job, and the fact that people eat healthier by the methods and ingredients that they use.
We caught up with Josie to find out why her nan's recipes made such an enormous impact on her, what makes the Robbies pickles and preserves so special and why the products sometimes move customers to tears.
If you had to describe Robbies in one line, what would you say?
Everyone deserves to eat better, without hidden chemicals, to enjoy products from their childhood, we are authentic, original, honest and we are creators not copiers.
What is the inspiration behind Robbies? Why did you decide to create the brand?
There were a heap of things that happened at once, Robbies was created by a collision of life stuff. I had a health scare, a big personal upset, a friend say this is too good and I want to pay for it (I had given it all away until then). I also had a gut feeling too huge to ignore, and a nagging question - what if you gave this everything, what would that look like? That was over five years ago. I decided to follow my instincts, quit my paid job and Robbies was born. It was started with nothing but an idea and passion.
I originally only made up what I grew, and I only followed Nana's recipes. Now, I create original recipes, add modern twists to the staple range and also evolve to meet the complex dietary needs of consumers who all deserve to enjoy their food without barriers. Intolerances and allergies matter to me.
In summary, Robbies is a tribute to our grandparents. On my side, my Nana filled my childhood with delicious jars of pickles, and my Grandad grew the ingredients. I am a mix of both of them, a legacy that I am extremely grateful for, I have a great instinct for recipes and flavour. I can grow anything.
My husband's Grandfather is the man behind our name, someone who I will most likely never meet as he lives in England. He was a pilot in the RAF in the second world war, and has met the Queen twice, due to his courageous, heroic feats in a plane.
Can you remember the first pickle/preserve that your nan ever made for you?
I remember always loving whatever she cooked. She was in a wheelchair, I never saw her walk unaided. I never saw her cook any pickles or preserves. I love her curried sausages to this day, I cannot make them the same. The thing I loved most was her green tomato relish, it always reminds me of Christmas and ham in a sandwich. Her tomato sauce always reminds me of fish and chips in Cheviot. I grew up with delicious flavoursome food. She passed away when I was 15, so all that I do is from her recipes and instinct.

Were there any learning curves when you were making your first products for Robbies? How did your first batch/recipe go?
The only thing I really made in the beginning was green tomato relish. It always worked, and I found it incredibly easy to make and to consistently turn out. My early batches were very simple, old fashioned recipes. My first struggles were with jam, and continue to be with anything sweet. Jam and marmalade are not things I eat, I'm far happier on the savoury side. People still hound me to make jam, constantly.
Learning curves were many, recipe wise, I learned I could not be a machine and bulk make anything - that all batches needed to be small and then nothing was compromised. I also learned the importance of having the right equipment, the space, the storage and trusting my instincts.
What's been the most enjoyable surprise while you've been in business?
I love that people love our product. I love it when they say it's the best they've ever had, I love the repeat customers. The most surprising thing has been success. And how easily the progression has been, when it's right. I have met and made so many friends through this business, I am really grateful for that.
And the biggest challenge?
A big challenge has been believing in myself, realising the quality of what I do and backing it. Challenges also involved where to sell our products, what stock to make, which markets, which stockists, and being able to keep up. We are forever running out of stock. You are always working quite a way ahead, especially with pickled onions, it's a tricky juggling act.
Initially getting our food registration and verification was also somewhat challenging as when the Food Act changed no one understood it or how to administer it. Displaying the stock, branding, market equipment, suitable vehicles, bottles, jars and labels. Being copied. Finding and establishing our niche. Many things have been challenging.
Can you tell us a little more about how the pickles and preserves are made? How are the recipes different to the ones you might find on the supermarket shelf?
Our pickles and preserves are a little left field to your traditional jam and pickle stalls. Right from the start I realised we needed a point of difference, as there were so many duplications.
We have only ever used certified organic molasses in our black sauces, only ever used heritage apples in our recipes. Our sauce range is very comprehensive, a mixture of traditional and original. It has three rib sauces, two garlic, two plum, one apricot, two drizzles, Worcester, two sweet chilli and two new ones about to be released. That's 15 sauces!
Then add the eight relishes/chutneys, at least six gourmets, 10 flavours of pickled onions, which have up to three sizes and two types of shallots. Plus, the things we make occasionally.
There is nothing artificial, no numbers or nasties, it is all about great flavour and moments. We spend a massive amount of time sourcing quality ingredients, or growing them organically. A product is only as good as its ingredients.
It is all made with integrity, passion and honesty. We only use South Island suppliers apart from our jar supplier. We do extensive taste testing before a product is launched and given a new permanent label.
What has been your favourite story or piece of customer feedback since you launched?
We've had people say it's just like mum made (sometimes with tears), it's been years since I've had a pickled onion that good. They are the closest thing to Nana's or Grandad's. The coolest thing about this is that everyone has cool food memories, from a family member mostly, who they cooked with or ate with, and that taste reminds them of that person and time. Our forefathers did it so well and simply.
What's your favourite way to use your pickles
I love to cook with our sauces - marinade, sauté, roast, stews and soups, many things. I love Nana's Plum sauce on just about everything and of course Nana's Green Tomato Relish with ham and tomato anytime.
What's next for Robbies – any exciting plans?
As we have now launched a website, and are getting more stockists, we are enjoying more time at home. We have a couple of artisan sauces about to be launched, which is so exciting, New Zealand firsts I believe. We are getting more visual and getting better at telling our story, which is always hard when you're very private people. We're adapting to a digital world and becoming story tellers.