Pickled onions take off at market like a rocket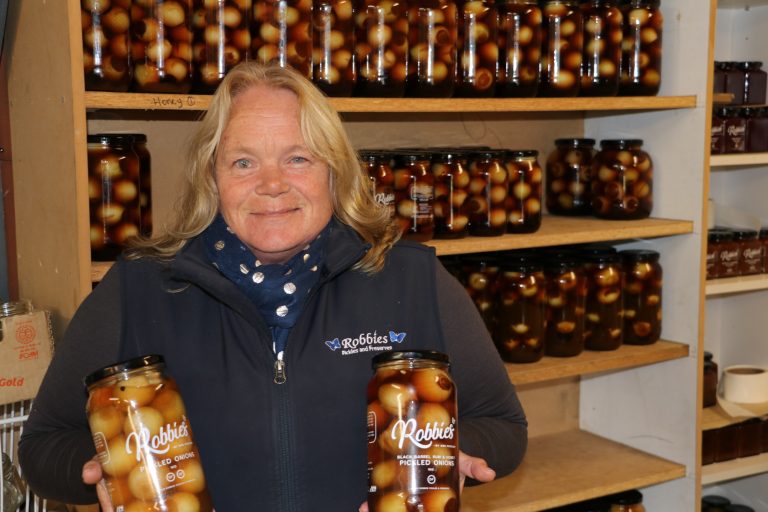 Published in The Ensign - Article by Sandy Eggleston - 
Mrs Pickles, Robbie, the Pickled Onion Lady are some of the names Josie Robinson answers to.
The Robbie's Pickles creator, of Gore, has been in business for five years selling preserved items including sauces, jams, relishes and pickled onions.
Mrs Robinson said inspiration for creating the range of preserves came from her grandmother who, when Mrs Robinson was a child, supplied her family with the jams and pickles.
"She was the most incredible cook ever," Mrs Robinson said.
"The love my grandmother put into the jars, is the love that I continue to put into every jar.
"We only make small batches."
She inherited her grandmother's gift for combining flavours and her grandfather's ability to grow vegetables.
"It's really neat that we can grow organic produce for our product as well.
"I have Nan's instinct for flavours and granddad's green thumb."
The business was named after her husband Gus's grandfather whose nickname was Robbie.
One point of difference between Robbie's preserves and others on the market was Mrs Robinson used her grandmother's recipes but was also developing her own.
"It is all done on gut instinct.
"You will never find us copying anybody."
"We're creators, not copiers."
Every since she could remember she had been changing recipes.
"I think this all began way back then."
Another point of difference was the ingredients used.
"We use nothing artificial or man-made, just like Nan."
It was an "incredible thing" to be able to create food people enjoyed.
When she started selling Worcestershire sauce, green tomato and red tomato relish at markets, she had not started making pickled onions.
However, after someone asked her to make some she did.
The person never called for the onions so she took them a market where they disappeared fast.
She made some more and each time she did they sold out.
"Then I thought I wonder what happens if we go big with this?
"It was just under 2 tonnes of onions we hand-peeled last year."
Over time other preserves were added to the selection and now, as well as 10 different flavours of pickled onions, between 40 and 50 other preserves were available.
Wherever she could, she sourced local ingredients.
"If not local it's all South Island produce used."
Until last year Mrs Robinson did most of the preparation but now had help.
She still did all the cooking and filling of jars.
"All our products are hand-made."
Most of the products were sold at markets but the Thomas Green Public House and Dining Room used some of the products in dishes on the menu.
"Our pickled onions, chutneys and relishes are throughout their menu."
The restaurant and Liquorland Gore also stocked the preserves.