Supporting the ANZAC's and the Soldiers, Sailors, Airmen's Association of New Zealand (SSAANZ).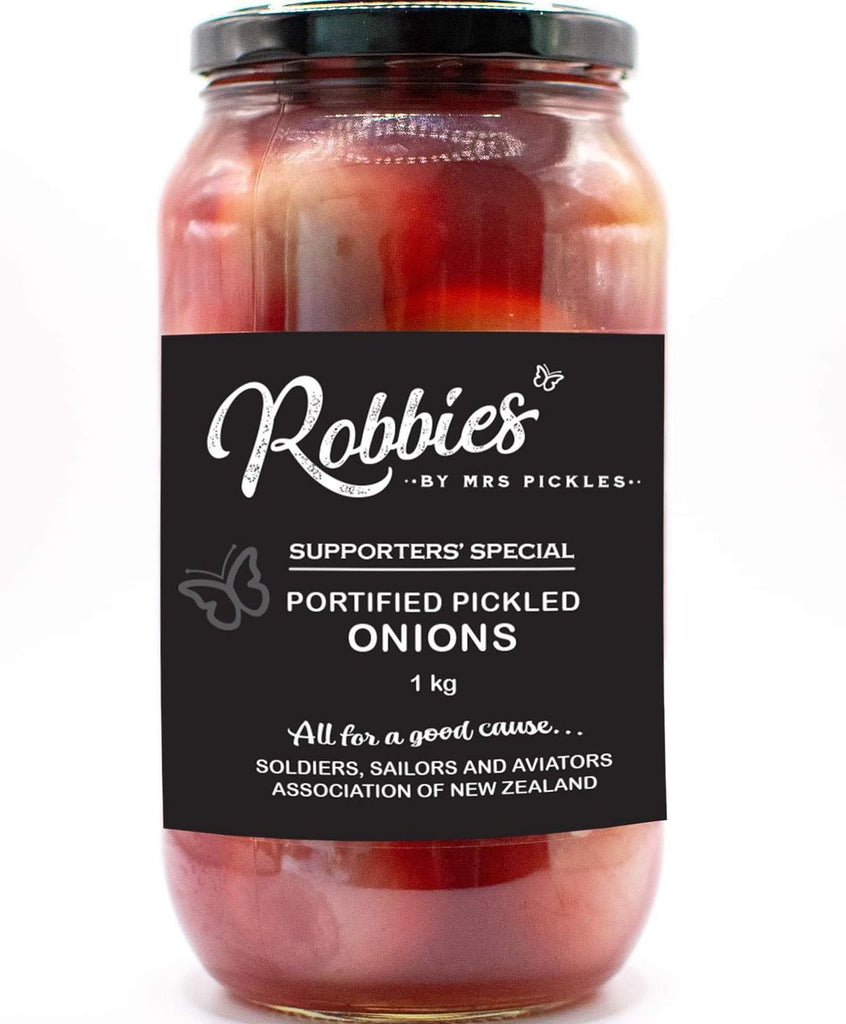 Josie Robinson's thinking is very much 'out of the box,' and that's what makes her products so successful.
Not just an award-winning label, Mrs Pickles has a new project that is very close to her heart - The Portified Pickled Onion.
It started with the humble pickled onion that has been infused with vinegar and then she's added some home grown plums.  Throw in some carefully selected spices and raw honey and finally some Grunt's Grog (port), and we have a celebration of all things Gore.
"It's my take on a mulled wine pickled onion," she said.
This is Josie's way of giving back to ANZAC's and to help those that live with trauma from serving on the front lines.
Josie's grandads were both ANZAC's and her business was named after her husband's grandfather Gus who flew for the Royal Air Force of England in World War II - Robbie was his nickname.   He was a decorated pilot who was once awarded honours by the Queen.
It's all about celebrating Josie's heritage and creating a legacy, and to acknowledge the harsh price that those in the military forces paid for their service, as well as a thank you to those who have been involved.
Portified is being sold as a fundraiser for SSAANZ at the Gore Returned Servicemen's Association (RSA), as well as at Roasted Toasted in Lumsden.
All proceeds will go towards the Soldiers, Sailors, Airmen Association of New Zealand (SSAANZ).
And of course the first jars will head north to the New Zealand Army, Navy, and Airforce head offices for a complimentary sample as well.
Grunt's Grog owner Aaron Horrell also has a special connection to (SSAANZ) - that originated back in 1997.
Aaron is a veteran that served in Afghanistan and he is part of the crew that helps SSAANZ members and their families, by taking them into the outdoors for learning and camaraderie.
The outdoors has been an incredibly powerful tool used by the trustees and founders of the charity to improve and maintain veteran's mental health and overall wellbeing.
Aaron and six other fellow veterans who go hunting together once a year, came up with the tipple in memory of those who served.
"Our military careers have created the path that we're on now," he said.
Adapting to life after service has been incredibly difficult for many veterans, and some have trauma that most of us cannot see.
"They are heroes to me, doing incredible things and it shines a light on them too," Josie said.